Home
Giant Alaskan Malamute
Puppies Available
Giant Alaskan Malamute
Past Puppies
MalAMail
Malamute Postcards







Hudson's Malamutes - The Adults - The Boys - Blazer
Everyone has large Malamutes, we have " True Giants"
Blazer

Red / White

150 lbs
advertising weight
110 lbs.- real weight

30" at the shoulders

born 2003

Registration provided
upon request

Blazer
is a Red/White
Alaskan Malamute
Blazer is my most dependable boy. He is always ready to schmooze his lady friends. But also knows how to get down to business. Always with an "I love you" smile and with an attitude of "Yes Ma'am"!!! He is a kid at heart as you can see with the camera's silly poses that are taken because he just can't contain his excitement. Blazer is a giant "Flame Brick Red" boy with a large frame. We plan to pull Blazer in the up and coming weight pulls. So look for us to Kick-Some-Butt. Look out Weight Pullers here we come !!!

Pedigree includes: Alaska's Own (also seen as Alaskas Own), Wakon, Cascade, Silver Frost
AMCA Nationals 2007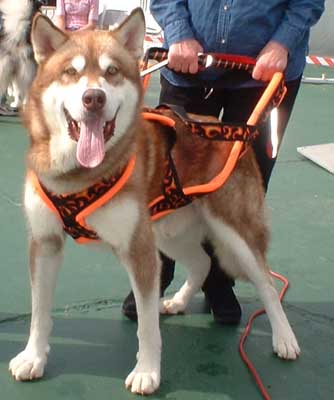 sporting his new harness at Nationals

Blazer AMCA Nationals - October 2007

Blazer - took 4th place ribbon in Octoberfest pull

Waiting for the relentless heat to die down, I only had a few weeks to work with Blazer before Nationals. This was a totally new experience for him. He did respectably well considering he'd never been in harness before. There's no doubt looking at the smile on his face, he had a blast!

Blazer - September 2007

Blazer - February 2007

Blazer - February 2007
Psalm 115:1
Not to us, O Lord, but to you goes all the glory for your unfailing love and faithfulness.
© 2004-2021 Jolene Houghtaling
Hudsons Huskies and Malamutes
P.O. Box 241
Baxter, TN 38544
(931) 432-0955
jhoughtaling@charter.net