Home
Giant Alaskan Malamute
Puppies Available
Giant Alaskan Malamute
Past Puppies
MalAMail
Malamute Postcards







Hudson's Malamutes - The Adults - The Boys - Kuma
Everyone has large Malamutes, we have " True Giants"
Kuma has found a wonderful, loving forever home
They love to play on the back porch and sometimes they all get so rowdy they knock my pictures off the wall! They can stand on their hind legs and look in our back door into the kitchen. They know we have food in there and they look in all the time. My windows in the living room are low to the floor so at night when our lights are on, they can see us watching T.V. from where they are on the porch.

Every time I get out the camera, Sesi wants to be right under me. She loves to have her picture taken but she thinks she has to be right under the camera!

Me and the dogs- we have to bribe Kuma with treats to get him still enough to take a picture- and getting him to look at the camera is impossible!

Spring 2009
Kuma

Red / White

140 lbs
advertising weight
105 lbs.- real weight

born 2001

Registration provided
upon request

Kuma
is a mahogany red
Alaskan Malamute
Kuma is a closed face true "mahogany" red. Many of his puppies are born with closed faces just like him. And what that means is that the puppies, when born, are almost solid black, gray or red and lighten as they grow older to closed dark face puppies. They developed white color later, as they mature. Many of his puppies are even Wolf-like, meaning that they highly resemble wolf markings. Some breeders claim that this specific marking or color is "Pure Kotzebue" or "Pure M'loot" but in the last twenty years or so of breeding all Kotzebue, M'loot & Irwin/Hinman lines have been now integrated together to make the great malamutes there are today.
Because of this wolf-like appearance Kuma's puppies have recently been filmed in a movie, cast as a pack of Wolf puppies that take in a small child to raise. This movie is called "Sparkle & Tooter". This movie should be out sometime early next year (2008). New and exciting things are happening at Hudson's.
Pedigree includes: Wakon, Caledonia, Nightwinds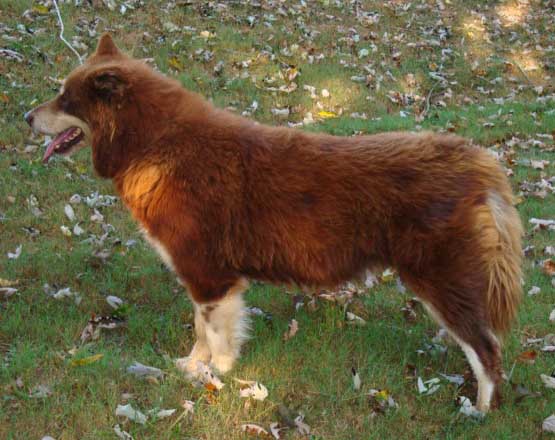 September 2008
September 2008


Kuma - January 2007



| | |
| --- | --- |
| Kuma's father Red Rock | Kuma's mother Kaos |
Psalm 115:1
Not to us, O Lord, but to you goes all the glory for your unfailing love and faithfulness.
© 2004-2021 Jolene Houghtaling
Hudsons Huskies and Malamutes
P.O. Box 241
Baxter, TN 38544
(931) 432-0955
jhoughtaling@charter.net