Home
Giant Alaskan Malamute
Puppies Available
Giant Alaskan Malamute
Past Puppies
MalAMail
Malamute Postcards







Hudson's Malamutes - The Adults - The Boys - Hudson's Glacier
Everyone has large Malamutes, we have " True Giants"
Glacier has found a wonderful, loving forever home.
He flew there with his new family in their private jet!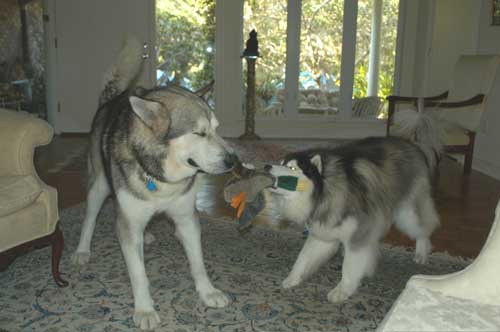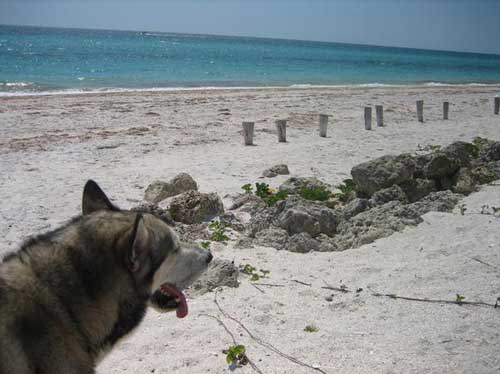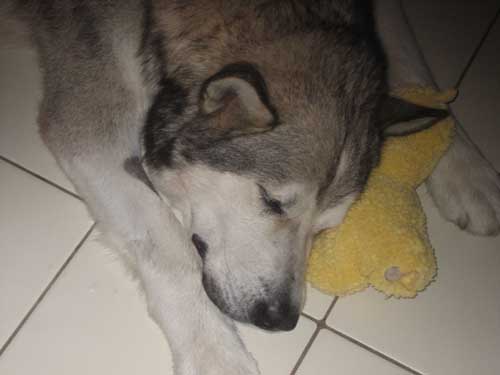 Hi Jolene,

I wrote this to your personal email as well, but I am not sure that you received it. I am sorry that I only have bad news to report when I write you. Glacier was diagnosed with bone cancer a while back and he just passed a few weeks ago. It started in his front ankle and after bringing him to the vet for what we thought was just a sprain we could see from the MRI that he had cancer all through his leg (and probably elsewhere). He was such a trooper about it and he lasted so much longer than anyone expected. He never cried or complained even when he could put no weight on his leg. He still loved to go on walks with only three good legs. He lived with me in Sarasota, Florida (I moved from Texas about 9 months ago) where I grew up and he was best friends with my family's female husky Lola. He was so protective of her. She is very vocal and even when Glacier had trouble getting up he would come running when he thought she might be in trouble. You were right about Glacier as you were right about Arctic. They both were amazing dogs that I feel lucky to have known, even if it hurt so much to see them leave. Glacier was such a happy man here. He never wanted to be alone (which is so different than Lola) and he never really had to be because we have so many friends who loved him. I will send you some photos of him with his girlfriend soon. It was hilarious to see them play. He was gentle with her even though he was physically capable of killing her in a second. Again, I apologize for only ever having bad news to report. However, my parents absolutely adored Glacier and my father especially feels a void having lost him in his life. He has found his way to your website on several occasions and we are now considering one of your male puppies.

Spencer February 16, 2008
Glacier

Gray/White

220 lbs
advertising weight
156 lbs.- real weight

32" at the shoulders

born xxx

Registration provided
upon request

Glacier is a huge boy
Scroll down to see him
with 28" Delilah
I think Everyone has been waiting to meet Glacier so here he is !!! Glacier is MASSIVE.... If you thought Sumo was big you need to come meet Glacier in person. The pictures just don't show what he truly looks like when you see him in person. Glacier is the tallest and largest Malamute that I own at this time. His head is huge. He loves the girls and all the attention he gets and most of all he loves his back scratched. And he likes to lean on your leg when you scratch him. He is so big he almost pushes you over. He also loves to work and pull. You can tell it is in his blood. More pictures will be updated soon so keep coming back to see more....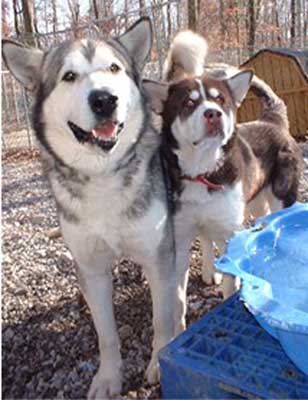 Hudson's Glacier with 28" Delilah
December 2005
February 2006
February 2006
February 2006
| | |
| --- | --- |
| December 2005 | October 2005 |
Glacier's father, Glacier
Glacier's Dad Stats
Regional wheels - Unlimited Class
Region 6, top pull 3505 lbs
Psalm 115:1
Not to us, O Lord, but to you goes all the glory for your unfailing love and faithfulness.
© 2004-2021 Jolene Houghtaling
Hudsons Huskies and Malamutes
P.O. Box 241
Baxter, TN 38544
(931) 432-0955
jhoughtaling@charter.net