Home
Giant Alaskan Malamute
Puppies Available
Giant Alaskan Malamute
Past Puppies
MalAMail
Malamute Postcards







Hudson's Malamutes - The Adults - Boys From The Past - Sampson
Everyone has large Malamutes, we have " True Giants"

Sampson has found a wonderful, loving forever home!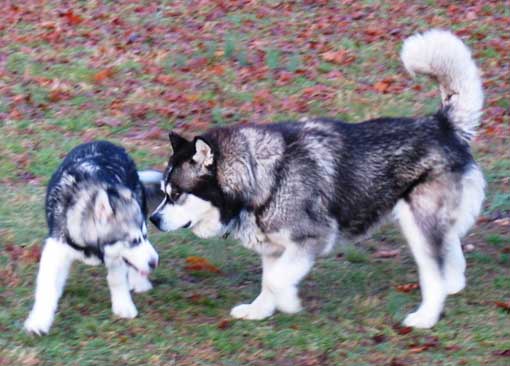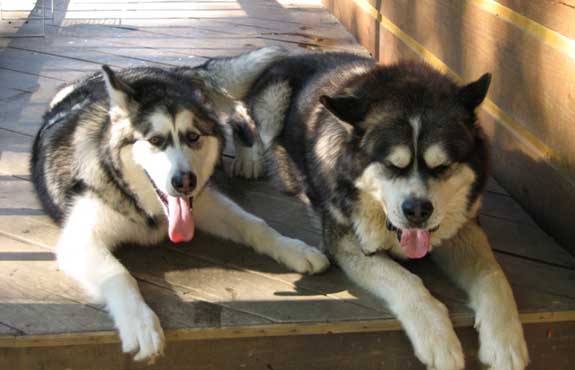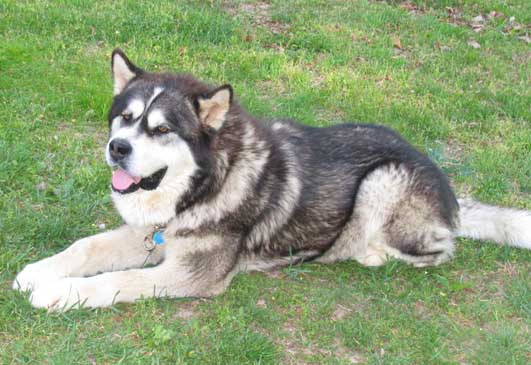 Hi Jolene,

Where to begin...I guess with the bad news. We lost Samson last summer. He seemed to have a heart attack. We miss him alot. Until that he was doing great. He loved going for rides in Craig's pick-up. We once took him to Petco. He was surrounded by a dozen little kids. He let the kids pet him, and he had a good time. The whole time we were there we kept hearing "That is the biggest dog I have ever seen". I make me sad to think of him, he was a good boy.

As for the good news, Eiger is doing great. He weighs about 130 pounds, and is a very, very, playful puppy still. He loves to run & sit in water to cool off. He also thinks he is a lap dog. Whenever possible he is laying on or touching one or both of us if possible. He is also so much more vocal than any other dog we've owned. He's always "woo-woo" wooing to us all the time as if we're supposed to understand what he's saying. He loves to wrestle with Craig whenever he can lure him onto the floor.

Joyce August 20, 2007
Wakon's Sampson

Gray/White

195 lbs
advertising weight
149 lbs.- real weight

31" at the shoulders

born May 19, 1999

Registration provided
upon request

Sampson is a big boy with

an all Wakon pedigree

I think of him as
"Mighty Malamute" :)
Sampson is new to my kennel. He's a sweet mellow big boy who's getting himself trim, and having the time of his life at Hudson's.
His pedigree is all Wakon.

Well everyone has been waiting to know a little more about Sampson so here goes! He is sweet, HUGE, loveable and grumpy all at the same time. If you are sitting next to him and you don't pay attention he will rub his head on you and roll over and make you pay attention. It is hard to ignore this big boy when he rubs against you "believe me". He loves car rides. He will let me know first thing in the morning that he wants to go. You would think he would sound rough and hard when he barks. He has one of the softest, sweet voices of my guys. When I take him with me for truck rides he takes up 3/4 of my truck bed. And this big oaf likes to get his front paws on the top of my cab when I go fast(I always yell at him to get down). He is restrained by double-leashes in the truck bed. People stare and you can see the words in their lips(OH MY GOSH). I don't know how many people have told me he is the biggest dog they have ever seen in their lives. I am proud and excited to have Sampson here. It is a good feeling to have my chest out when you see all these people stare at my Sampson in amazement. Come and see for yourself what a great Mal he is.
Sampson was 177+ lbs when he got here. He had been on a poor diet (human food, too much salt) when I got him. By getting him on free-feed premium dog food, he's slimmed down to 149 lbs., losing that excess water weight. He's healthier and happier.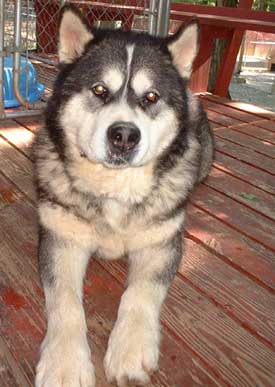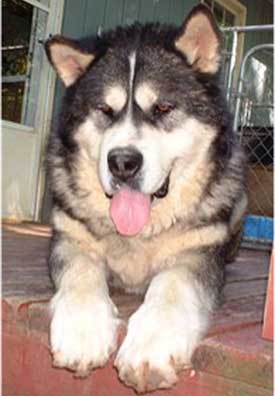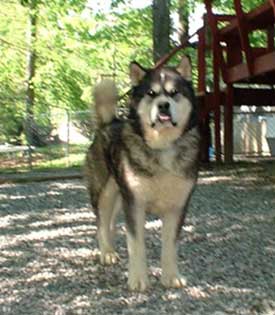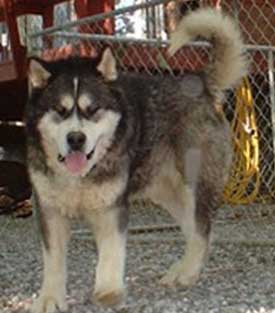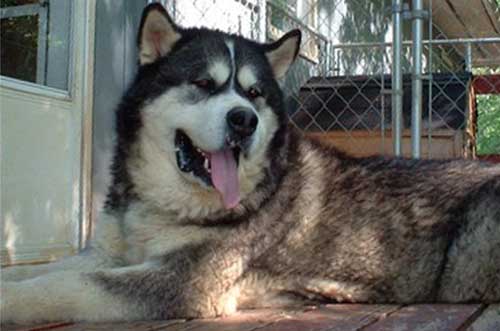 May 2005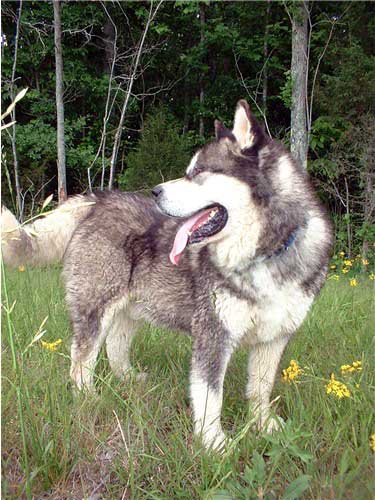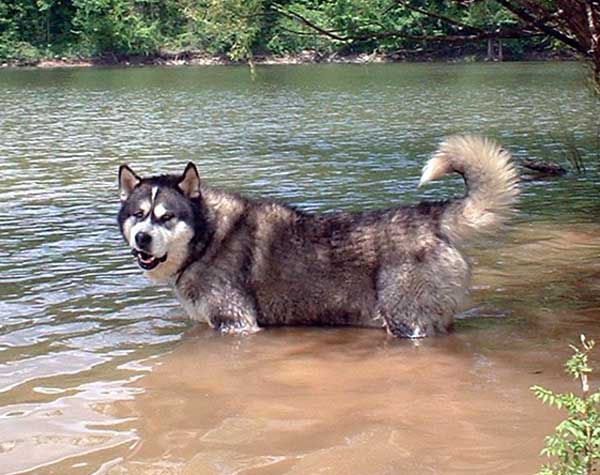 May 2005
More shots of Sampson having fun!
Psalm 115:1
Not to us, O Lord, but to you goes all the glory for your unfailing love and faithfulness.
© 2004-2021 Jolene Houghtaling
Hudsons Huskies and Malamutes
P.O. Box 241
Baxter, TN 38544
(931) 432-0955
jhoughtaling@charter.net