Home
Giant Alaskan Malamute
Puppies Available
Giant Alaskan Malamute
Past Puppies
MalAMail
Malamute Postcards







Hudson's Malamutes - The Adults - The Boys - Koyuk
Everyone has large Malamutes, we have " True Giants"
Hudson's Koyuk

Gray/White

148 lbs
advertising weight
116 lbs real weight
still growing

born 2007

Registration provided
upon request

Koyuk was in the movie
Sparkle and Tooter
Koyuk is a Kuma / Nyga son and a movie puppy

Everyone meet our famous Movie boy Koyuk. Only a few weeks into this world and there plastered on the silver screen all for the whole world was this charismatic, lovable fluff ball... Koyuk is a Wolfgray/white boy with a smile like no other. If you don't look close you might think there was a real wolf in the pictures. Koyuk and his siblings played a pack of wolf puppies in the move Sparkle and Tooter. When Koyuk was born he looked almost all black. Now with Koyuk all grown up he is a joy to be around. He socializes with all the dogs here but is a bit bossy with the boys. He loves to play and Rtic is his best buddy. They will sit and play all day long dueling and chasing each others tails. He loves the water and always seems to have his front feet in the water bucket. He is a sweet, lovable boy and you can pick him out of the crowd. Come check him out here at Hudson's...

Bloodline includes Hudson's, Wakon, Cascades

August 2008

August 2008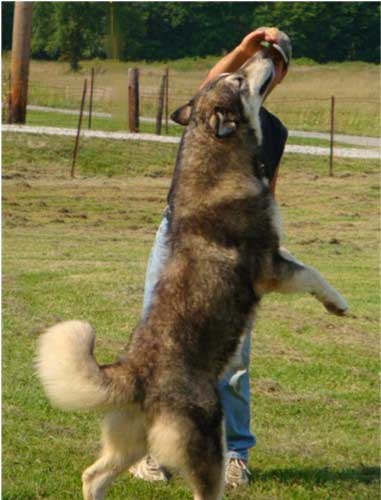 August 2008

August 2008
Psalm 115:1
Not to us, O Lord, but to you goes all the glory for your unfailing love and faithfulness.
© 2004-2021 Jolene Houghtaling
Hudsons Huskies and Malamutes
P.O. Box 241
Baxter, TN 38544
(931) 432-0955
jhoughtaling@charter.net